About Expertise Matrix

What is a Skill Matrix?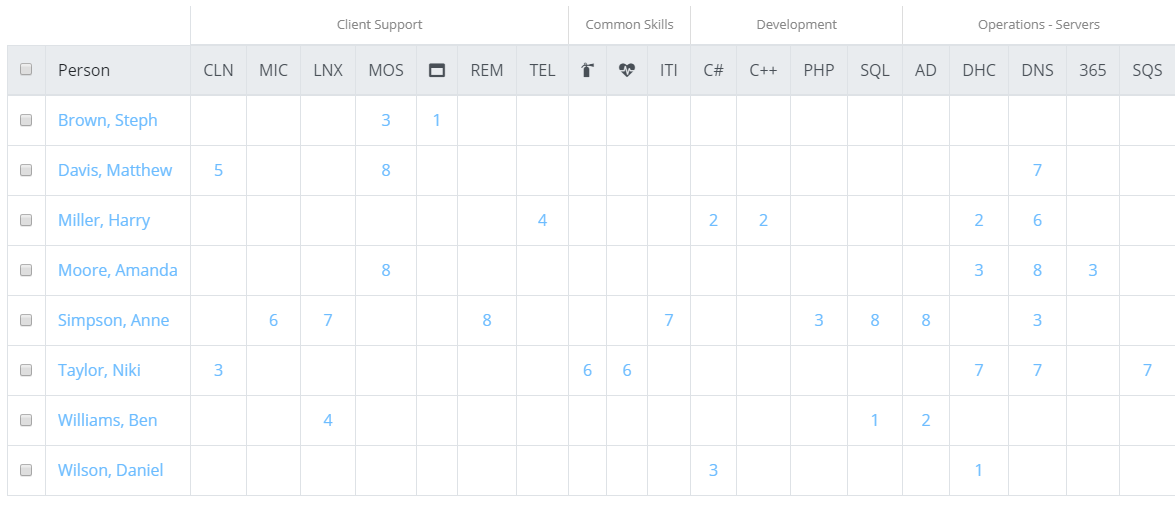 A Skill Matrix is a simple table view with people along one axis and skills along the other. For each cell of the table, the person's proficiency with each skill is shown with a numerical value from a given range. The range itself is typically given as 0 (which represents no knowledge or ability in that particular skill) to 3 (which shows an advanced proficiency in the skill). The range can, however, use any numbers as fit your business, so you may, for example, want a 0 to 100 range instead to show a more granular range of proficiencies.
Skill Matrices as a Management Tool
Skill Matrices are an important management tool as they allow you to:
Identify the strengths and weaknesses of each employee
Gauge the health of your business by identifying skill gaps and areas that are at-risk because of a lack of sufficient people with a particular skill, or because of single-points-of-failure
Help to inform a Professional Development Review process by providing a visualisation of an employee's skill set
Determine training needs and learning opportunities
Assist in pairing skills between employees, which help when setting up mentorship programs
Formalise the process of setting and tracking learning targets for employees
Meeting Your Employees' Training Needs
Building and maintaining skill matrices with your employees also helps with keeping people happy because they can see their individual progression, and that their professional development is important to you as their employer.
In a survey, 91% of high performing employees reported that working for an employer that offered learning and development opportunities was important to them. ( Pulse of Talent Report - Ceridian 2017).
By collaboratively creating a skill matrix for each employee, you are investing in their development, and that leads to happy, productive people.