Creating a New Subscription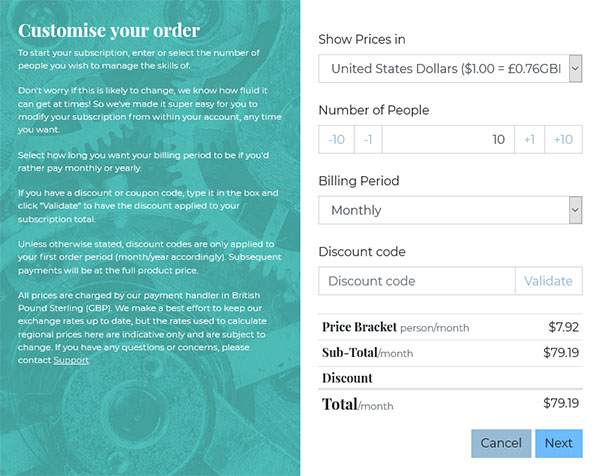 To create your first subscription, simply click the Get a Free Quote Now button, or the Subscribe link on the homepage. You will be shown the subscription customisation window as displayed above.
Order Configuration
Show Prices in
Use the drop down box to select your preferred currency if it wasn't selected automatically. Please be aware that all transactions are carried out in British Pounds Stirling (GBP), we do our best to make sure that our exchange rates are up to date, but should only be treated as estimates and may be subject to minor differences when payment is actually taken, this is due to the exchange rate market's volatile nature and is completely out of our control.
Number of People
Enter or select the number of people whose skills you want to manage in Expertise Matrix. We don't limit you to a specific number or size of teams, instead preferring to give you the option to pay for just the people you have. We also understand that these numbers are prone to changing, so we make it really easy to change this whenever you need.
Billing Period
Select whether you'd prefer your subscription to run month-to-month, or if you'd rather pay for the whole year up front.
Discount code
If you have a discount code, enter it here and click Validate to have it checked and the discount applied to your quote.
Click the Next button to proceed.
Register a New Account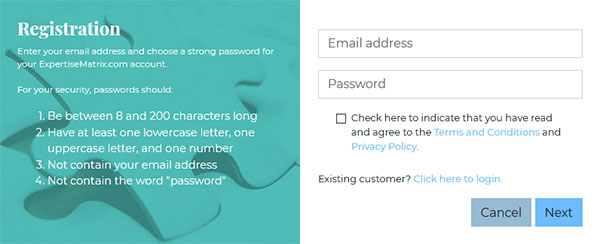 If you're a first-time user, enter your email address and a password to register your account. If you already have an account, click the Click here to login link to go to the login screen instead.
When you click Next an email will be sent to confirm we read your address correctly, you'll need to click the link in the email to proceed.
Subscription Payment Information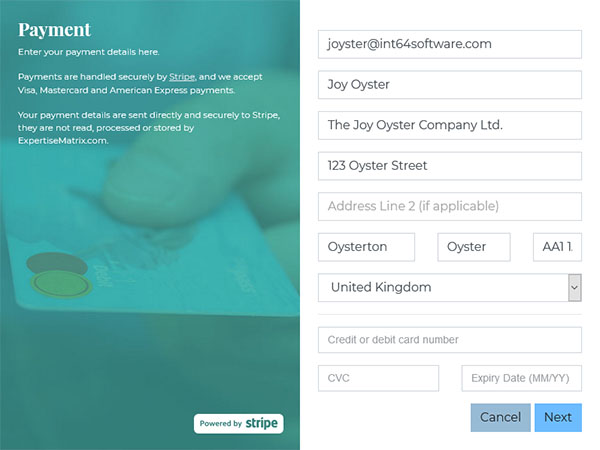 Enter your card details to setup your subscription and make your first payment. We use Stripe as a trusted, secure and well-established payment provider.
Don't Have a Company Card?
If you don't have a card, or if you just would prefer to pay by bank transfer or purchase order, Contact Us.
Order Confirmation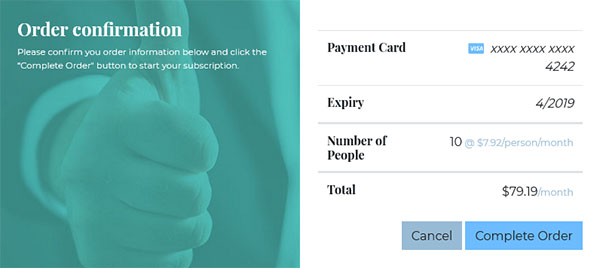 Check all the details are correct for your subscription. Payment is not made and your subscription isn't set up until you click the Complete Order button.
Order Completed

Congratulations! You can now go to My Account to start adding people and skills.