People in my Company
Adding a Person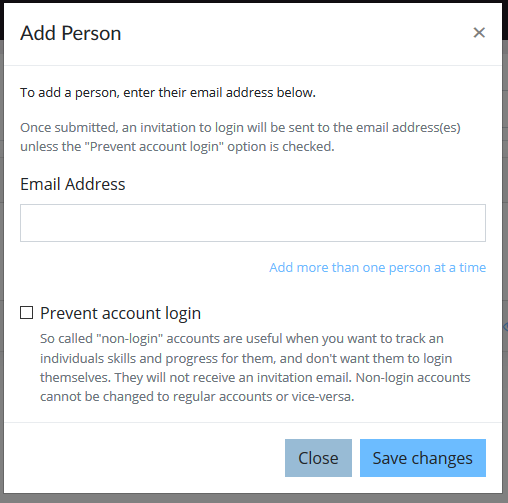 To add a person to your company, creating their user account, click the Add a Person button from the People page.

The Add Person Window
Email Address
Every individual user in Expertise Matrix needs to have a unique email address associated with their account. Enter this here to add the person.
Add more than one person at a time
If you want to bulk add a lot of users, click this link to go to the Adding Multiple People window.
Prevent account login
If left unchecked, an interactive account will be created and the user will be emailed with a link to set their password and complete the creation of their account. They will then be able to login and use Expertise Matrix in the normal way.
However, if this box is checked then the account will be marked as non-interactive, the person will not be emailed, and nobody will be able to login to the account. The purpose of this is to create accounts that you and other people with permission will be able to track the skill progression, but which don't have or need an actual person to login and use themselves.